UAE Vice-President Sheikh Mohammed Takes a Ride on Dubai Metro
Dubai's leader, His Highness Sheikh Mohammed bin Rashid Al Maktoum, Vice-President and Prime Minister of the UAE and Ruler of Dubai, is renowned for his hands-on approach to governance, consistently striving for top standards and quality in all aspects.
Read also : One-Day Test for Driving Licence Launched in RAK
Sheikh Mohammed's Active Engagement in Governance and Tours
In recent days, Sheikh Mohammed has undertaken an official duty that involved touring five different locations within a span of three days. This active engagement demonstrates his commitment to staying connected with various sectors of the emirate.
UAE Vice-President Sheikh Mohammed's Dubai Metro Ride
On a leisurely Friday, Sheikh Mohammed experienced a ride on the Dubai Metro, personally experiencing the city's efficient and widely used public transportation system ,Taking advantage of the beautiful cycling infrastructure in Dubai, on Monday (July 10), Sheikh Mohammed was spotted cycling along the 7km track of the Dubai Water Canal. Joining him were government officials, creating a sense of camaraderie while enjoying the popular cycling route.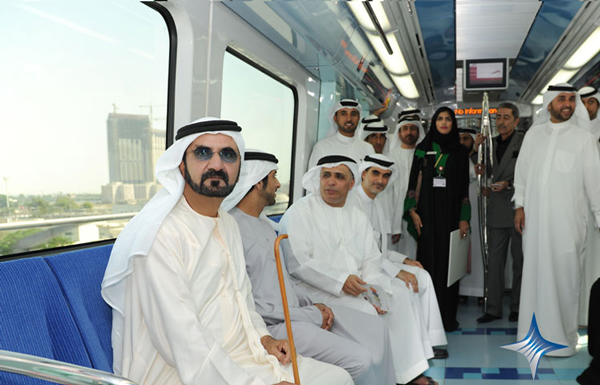 Sheikh Mohammed Explores SeaWorld Abu Dhabi and Depachika Food Hall in Nakheel Mall
Embracing Dubai's vibrant tourism offerings, Sheikh Mohammed visited SeaWorld Abu Dhabi on July 11, exploring the renowned tourist destination. Later that day, he leisurely strolled through the Depachika food hall at Nakheel Mall on Palm Jumeirah, with his entourage stopping by La Fabbrica Italiana. Depachika is a beloved food hall that offers a wide range of gourmet treats, catering to Dubai's foodie community with its speciality and artisanal food offerings.
Sheikh Mohammed Tours Emirates Engineering Centre, Reviews Cabin Refurbishment and Safety Demonstrations
Continuing his engagement with the aviation sector, Sheikh Mohammed toured the Emirates Engineering Centre on July 12. During the visit, he thoroughly reviewed various aspects of the airline's ongoing cabin refurbishment programme. Additionally, he witnessed a demonstration of aircraft safety slides being deployed and tested at the state-of-the-art cabin workshops.
Sheikh Mohammed Visits Terminal 2 at Dubai International Airport, Emphasizing Importance of Dubai's Aviation Industry
Showing his dedication to Dubai's transportation infrastructure, Sheikh Mohammed also visited Terminal 2 at Dubai International Airport on the same day. This terminal not only serves as the operational base for flydubai but also provides services to 18 other airlines, further highlighting the breadth and significance of Dubai's aviation industry.