"COP28 Puts Food and Agriculture at the Heart of Climate Change Battle
The upcoming Cop28 climate summit has placed a significant emphasis on agriculture and food production, as announced by the presidency. Minister for Climate Change and Environment, Mariam Al Mheiri, unveiled the "food systems and agriculture agenda" with a clear goal of addressing the issue through four key approaches.
Read also : The best time to drink milk to lose weight
Agriculture and Food Production Take Center Stage at Cop28 Climate Summit
mobilizing national leadership, engaging non-state actors, fostering innovation, and increasing financial support. The launch of this agenda at the UN Food Systems Summit in Rome marks an unprecedented commitment to tackling the challenges of food systems and agriculture within the Cop process. To further advance these efforts, Ms. Al Mheiri urged governments to sign the first-ever "leaders' declaration on food systems, agriculture, and climate action."
Revolutionizing Food Systems: A Call to Action at Cop28
At Cop28, governments are urged to prioritize the integration of the "food systems and agriculture agenda" into their climate change plans. This involves aligning proposals with emission reduction targets (nationally determined contributions), biodiversity strategies, and adaptation plans. The declaration acknowledges that the world's food systems are currently broken, with billions of people paying the price for unsustainable practices. To drive transformation, Cop28 emphasizes the need for governments to take action in two major aspects: intensifying efforts on food systems and collaborating with non-state actors to find sustainable solutions. Furthermore, innovation in adaptation and mitigation strategies will be encouraged, and governments will be urged to allocate sufficient finance to support these essential changes.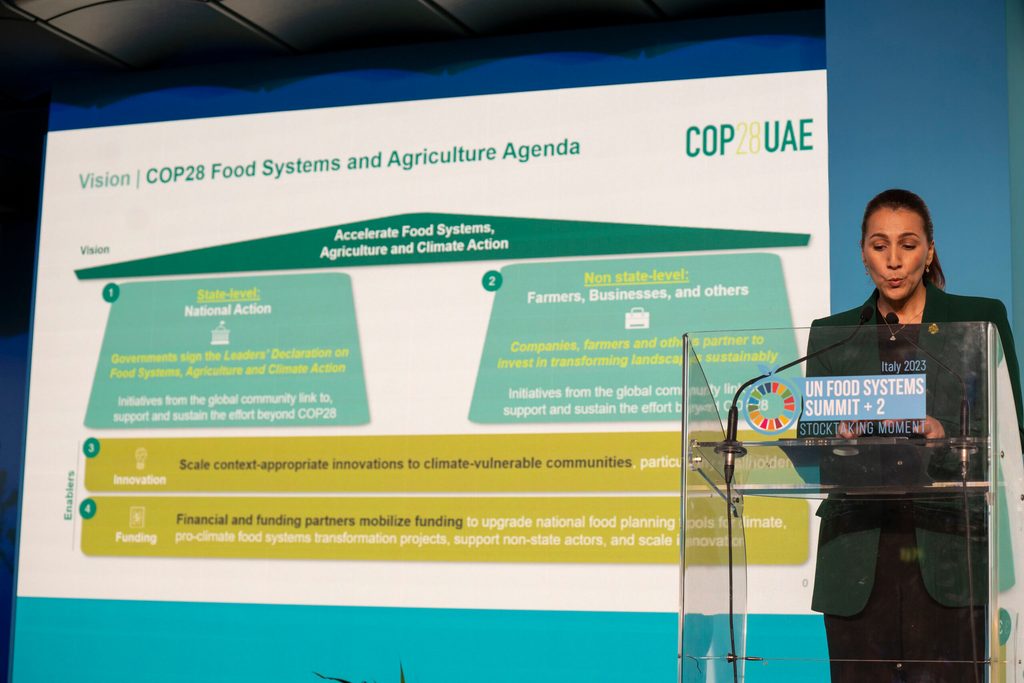 A Sustainable Future: Cop28's Commitment to Food Systems
Cop28's dedication to prioritizing food systems signifies a strong commitment to address pressing global challenges. By mobilizing national leadership, engaging with diverse stakeholders, fostering innovation, and securing necessary funding, Cop28 aims to achieve transformative change that ensures a sustainable future for all. Unsustainable food production, packaging, and consumption contribute significantly to greenhouse gas emissions, freshwater usage, and biodiversity loss. Cop28's focus on renewable energy adoption and climate change adaptation, including the use of heat-tolerant crops and water-efficient practices, aims to bolster the resilience of climate-vulnerable farmers while reducing food system-related emissions. This commitment also involves uniting businesses, farmers, and producer organizations to drive progress in the agricultural sector, with a particular focus on regenerative agriculture.
A Vision for Cop28: Aiming for 1.5°C Global Warming Limit
Cop28, set to take place at Expo City Dubai from November 30 to December 12, will be guided by four pillars: expediting the energy transition, addressing climate finance challenges, prioritizing human-centered solutions, and fostering inclusivity. Dr. Sultan Al Jaber, Cop28 President-designate, has asserted that limiting global warming to 1.5°C is the summit's ultimate objective. As a testament to their commitment, the UAE raised its emissions cuts target to 40 percent for this decade, up from the previous 31 percent. With an agenda centered on agriculture, food systems, and climate action, Cop28 aims to bring about substantial changes and pave the way for a sustainable and resilient future.