UAE Gender Balance Council at Global Aviation Gender Summit, Madrid
The UAE Gender Balance Council (UAE GBC) actively participated in the Global Aviation Gender Summit 2023, organized by the International Civil Aviation Organization (ICAO) in Madrid. The council's involvement reflects the directives of Her Highness Sheikha Manal bint Mohammed bin Rashid Al Maktoum, President of the UAE Gender Balance Council, to strengthen global partnerships and share the UAE's pioneering experience in achieving gender balance.
Read also : Balancing Climate Change and Economic Growth: Can We Find a Solution?
UAE Gender Balance Council Promotes Gender Equality in Global Aviation Summit
Led by Her Excellency Huda Al Hashimi, Deputy Minister of Cabinet Affairs for Strategic Affairs, and with the participation of Ayat Al Salmi, Senior Project Manager, the UAE GBC delegation highlighted the country's efforts to establish gender balance across sectors. Their presentation emphasized the UAE's regional and global achievements in alignment with the Sustainable Development Goals, showcasing the nation's commitment to women's empowerment and comprehensive development , During the summit, HE Huda Al Hashimi met with Salvatore Sciacchitano, President of ICAO, to discuss cooperation opportunities in promoting gender balance at regional and global levels. They particularly focused on the Global Accelerators Ambassadors Program, which aims to equip ICAO leaders with tools and methodologies to support gender balance goals and foster a transformational vision.
Fostering Partnerships for Gender Equality in Aviation
The Global Aviation Gender Summit facilitated fruitful discussions among governments, international organizations, experts, and private sector representatives. It provided a platform to explore areas of collaboration, strengthen measures by airlines and authorities, and accelerate progress towards gender equality in the aviation industry. The summit's theme aligned with the fifth Sustainable Development Goal, which aims to empower women and girls worldwide , Despite the challenges highlighted by a global survey conducted by ICAO, indicating a gender gap in the aviation workforce, there has been a positive increase in women's participation as pilots, air traffic controllers, and maintenance technicians. The summit emphasized the importance of gender equality in creating an inclusive industry that embraces diverse perspectives and generates innovative solutions. Stakeholders were called upon to collaborate in overcoming barriers and transforming the aviation sector's workforce composition.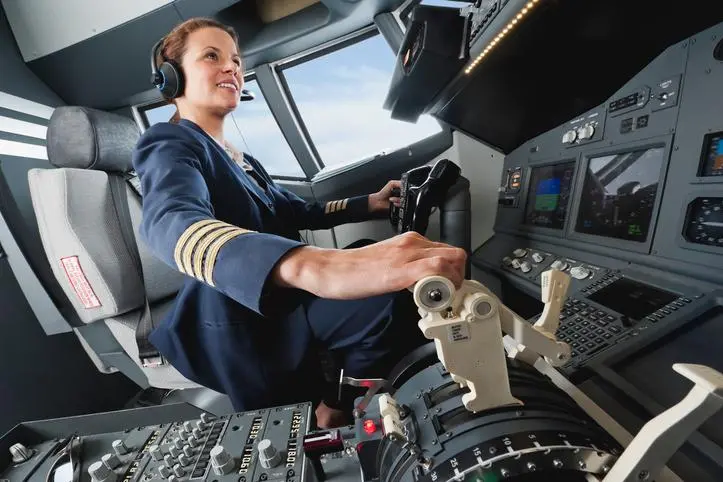 Integrating Gender-Responsive Policies and Financing
HE Huda Al Hashimi served as a keynote speaker in the session titled "Harnessing the power of gender-responsive policies and financing." The session focused on integrating gender equality perspectives into aviation policies, planning processes, strategies, and frameworks. It explored ways to create a favorable environment for women in the sector and examined gender-responsive policies, including flexible working arrangements, work-life balance promotion, and inclusive human resource policies. Adequate allocation of human and financial resources was stressed to effectively address the gender gap.
UAE Gender Balance Achievements in Focus
During the session, HE Huda Al Hashimi highlighted the UAE's commitment to enhancing successes in the aviation industry through close collaboration with ICAO. She highlighted the UAE Gender Balance Council's initiatives, established in 2015 to bridge the gender gap in all sectors, including the private and governmental domains. Notable projects and initiatives, guided by the vision of HH Sheikha Manal bint Mohammed bin Rashid Al Maktoum, were highlighted, including the development of the "Gender Balance Guide" in partnership with the OECD and the implementation of over 22 legislations and legal amendments to promote gender balance and women's empowerment , Efforts to enhance women's participation in the aviation sector were emphasized, with approximately 27,000 women representing 42% of the workforce. The General Civil Aviation Authority (GCAA) has actively increased the representation of women in leadership positions and technical specializations. The UAE private sector has also embraced gender balance goals through the "SDG5 Pledge to Accelerate Gender Balance," with 64 companies committing to increasing women's representation in middle and senior management positions , The Gender Balance Index for the UAE was highlighted as a framework for evaluating and recognizing entities that achieve gender balance goals, inspiring further progress and commitment to gender equality in all sectors.