Dubai's 2023 tourist numbers boost growth, says Sheikh Hamdan
Dubai Solidifies Its Status as a Major Global Economic Center in the First Half of 2023, According to Crown Prince Sheikh Hamdan bin Mohammed
Read also : Dubai Police: Bentley Continental GT V8 Joins Supercar Fleet
Dubai Continues to Thrive as a Global Economic Powerhouse
In the period of January to June, Dubai showcased its robust performance across various sectors, reaffirming its position as a key player in the global economy, as stated by Sheikh Hamdan bin Mohammed, the Crown Prince of Dubai. With over 8.5 million visitors welcomed in the past six months, Dubai emerged as one of the world's top three cities of choice for the wealthy. Furthermore, it demonstrated remarkable resilience in recovering from the impact of the Covid-19 pandemic, positioning itself as one of the fastest-recovering cities worldwide. Sheikh Hamdan expressed his pride in Dubai's continuous growth and emphasized its unwavering status as an economic hub and the ultimate place to live and work globally.
Dubai's Growth Gains Momentum Driven by Strong Stock Market and Property Sector
The flourishing stock market and thriving property sector have served as catalysts for Dubai's growth during the initial half of 2023. The Dubai Financial Market (DFM) witnessed remarkable progress, with listed companies amassing a total market value of Dh652 billion ($178 billion). Trading volumes during the first six months of the year surpassed Dh46 billion, demonstrating a vibrant market. Additionally, Nasdaq Dubai exhibited strong growth, witnessing the value of listed Sukuk rise to an impressive $75 billion, establishing Dubai as a prominent hub for Sukuk listings globally. Furthermore, the real estate sector experienced increasing demand, as evidenced by total transactions reaching Dh285 billion, fostering a competitive environment and supporting the objectives of the Dubai Economic Agenda.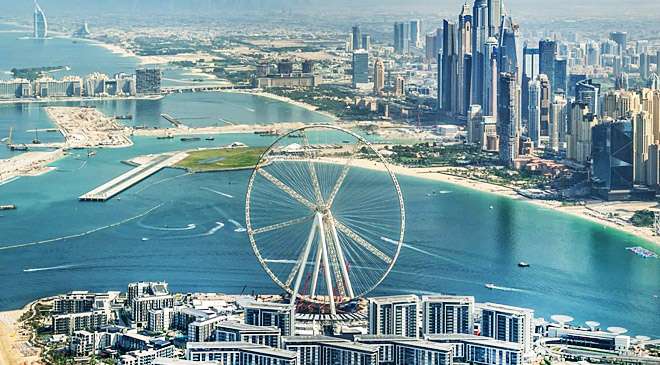 Dubai's Economy Shows Resilience and Positive Projections for 2023
Dubai's economy displayed resilience, recording a 5% growth in 2022 and expected to grow by 3.5% in 2023, as projected by Emirates NBD. The wholesale and retail trade sector accounted for 24.1% of the emirate's gross domestic product during the first nine months of 2022, as highlighted by data from the Dubai Statistics Centre. These figures illustrate Dubai's continuous economic expansion and its ability to adapt to changing global circumstances, solidifying its position as a thriving economic force.
Dubai International Airport Soars to Pre-Pandemic Levels, Fueling Optimism
Dubai International Airport exceeded expectations, hitting 95.6% of pre-pandemic passenger levels in the first quarter of 2023. Witnessing a remarkable 55.8% increase in passenger traffic compared to the same period in 2022, the airport accommodated 21.2 million passengers. This achievement prompted the airport to raise its annual passenger forecast for the year. The upward trajectory of the airport's performance serves as a positive sign of recovery and instills optimism for the future.
Dubai's Property Market Flourishes, Attracting Global Investors
Dubai's property market demonstrated strong growth in the first quarter of 2023, with total transaction value surging by 80% compared to the previous year, reaching Dh157 billion. Official data also revealed a 49% increase in the number of transactions, totaling 38,715. In a significant achievement, Dubai emerged as the leading market for $10 million homes, with sales amounting to $3.1 billion in the first half of the year, surpassing Hong Kong and New York, according to Knight Frank, a global property consultancy. This accomplishment positions Dubai as an attractive destination for global investors seeking lucrative opportunities in the real estate market.
Dubai Continues to Attract Wealthy Individuals and Enhance Investor Confidence
Dubai's strategic location, robust infrastructure, and impressive economic growth have propelled the city to be among the world's three most appealing destinations for the wealthy, as confirmed by the media office. Recognizing the emirate's growing attractiveness for wealth owners, Dubai's development plan, known as D33, aims to attract an annual average of Dh60 billion in foreign direct investment over the next decade. To achieve this goal, Dubai is focusing on nurturing investor confidence, enhancing regulatory frameworks, and refining legislative structures. These efforts align with the emirate's objective of boosting its global standing as a premier destination for both business and tourism.
DFM Achieves Milestone, Reflecting Investor Confidence and Structural Reforms
Last week, the Dubai Financial Market (DFM) achieved its highest point in nearly eight years, reaching a level of 3,987. This milestone signifies growing investor confidence in the UAE's capital markets, attributed to ongoing structural reforms and liquidity-boosting initiatives. With a remarkable increase of almost 20% year-to-date, outperforming the MSCI World Index's 12.6%, the DFM's performance underscores Dubai's commitment to economic progress and further reinforces its position as a favorable investment destination.
Dubai Receives Acclaim as the World's Top Destination
For the second consecutive year, Dubai was named the world's top-ranked destination in the prestigious Tripadvisor's Travellers' Choice Awards 2023. This accolade further bolsters the efforts of the D33 plan to position Dubai among the world's three leading destinations for both tourism and business. The media office emphasized that these remarkable achievements reflect the confidence bestowed upon Dubai by major investors, international institutions, and business leaders, showcasing Dubai's ability to successfully navigate global challenges and adapt to a rapidly evolving economic landscape.