Dubai Father-Son Duo Cycles 100km Daily for a Month to Pro
In an impressive feat, a devoted father and his son from Dubai have successfully accomplished an extraordinary endeavor by cycling 100km daily for a month. Their mission aimed to raise awareness about the pressing need for a more inclusive society. Nick Watson, a 53-year-old Briton, and his 20-year-old son Rio.
Read also: UAE-backed biotech firm tests AI-designed drug.
Father-Son Duo Concludes Inspiring Cycling Challenge for Inclusivity
who faces the challenges of a rare chromosome disorder affecting his motor skills, embarked on this remarkable journey. Throughout the month of June, they covered an astonishing distance of 3,075km along the cycle tracks of Al Qudra in Dubai. Nick pedaled a specially adapted 35kg bike, while Rio comfortably sat in an accessible seat at the front, marking their commitment to the cause. This initiative, named RideWithRio, was organized by Team AngelWolf, a licensed non-profit foundation established by the Watson family, including Nick's wife Delphine and their triathlete daughter Tia, aged 16.
A Grueling Expedition of Inclusion: Father-Son Duo's Month-long Cycling Odyssey
During their awe-inspiring journey, Nick and Rio Watson spent over 130 hours on the road, equivalent to cycling from Dubai to Istanbul. Their arduous trek demanded immense physical endurance, as they climbed the height of Mount Everest and consumed a staggering 55,000 calories. Setting off in the early hours of the day to beat the scorching heat, their dedication knew no bounds. Nick spoke with The National, acknowledging the toll the consecutive June days took due to weather conditions. Nevertheless, both father and son were undeterred. Rio, showing immense enthusiasm, often woke up earlier than his father, eager to embrace the challenges that lay ahead. To reach their daily target of 100km, they tirelessly biked for four and a half hours each day. The unwavering commitment displayed by Nick and Rio exemplifies their unwavering determination to conquer barriers and promote inclusivity.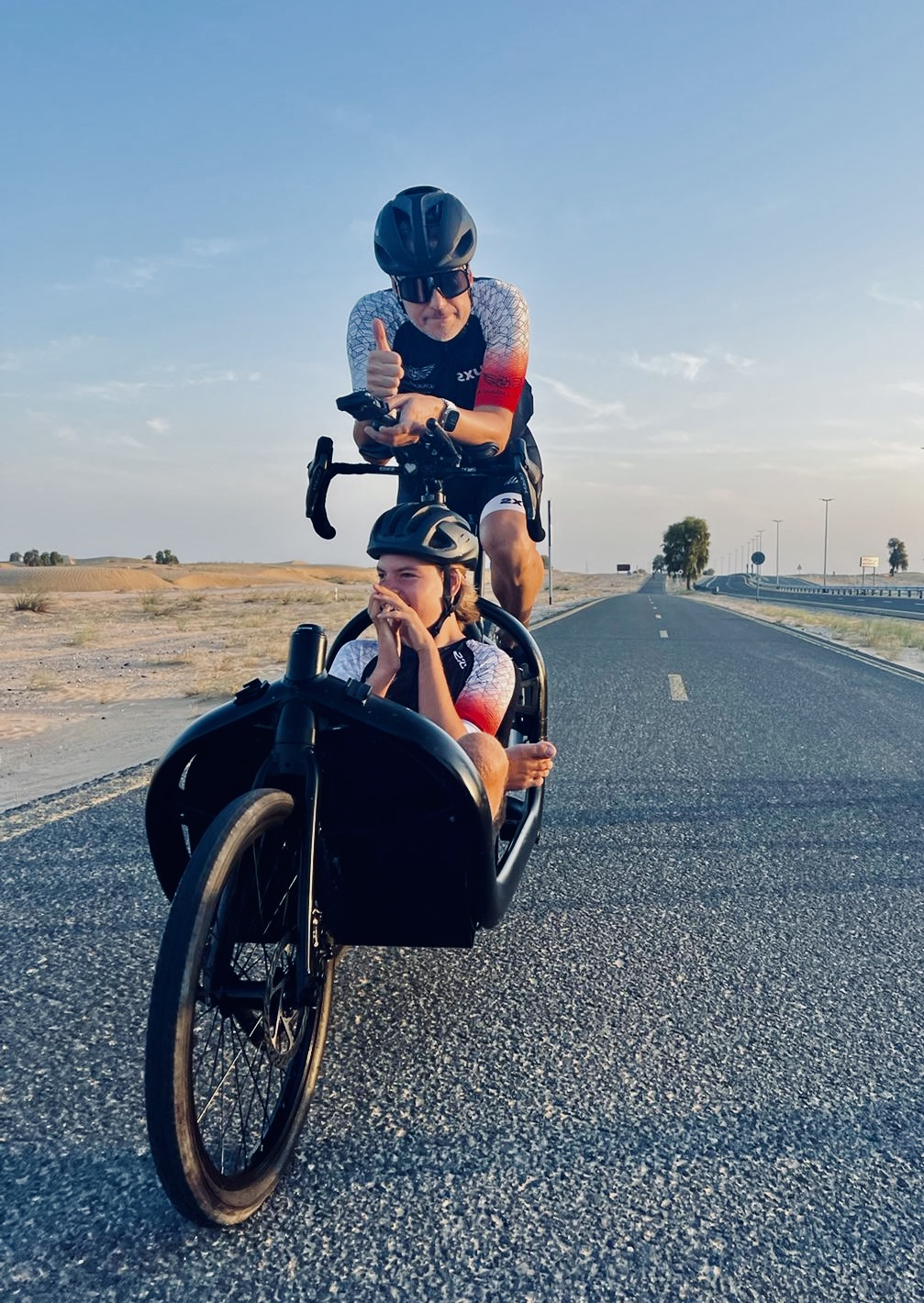 Team AngelWolf: Pioneering Inclusivity through Sports and Challenges
Team AngelWolf, the driving force behind this inspirational cycling endeavor, has been actively participating in various sporting challenges for a decade. In 2021, the Watson family made headlines when Rio and Tia took part in a 50km ultra marathon to commemorate the UAE's 50th anniversary. During the Dubai Run, organized as part of the Dubai Fitness Challenge, Sheikh Hamdan, the Crown Prince of Dubai, even pushed Rio's running chair, further amplifying their message of inclusivity. Nick proudly shared that they have completed an astonishing 500 races, covering nearly 14,000km to date. Their pursuit of breaking down barriers through sports stems from their desire to promote acceptance and inclusion within communities. Recognizing that families with children facing disabilities sometimes experience a sense of segregation, they aspire to encourage others to partake in similar challenges or simply enjoy a walk with their children, fostering a sense of belonging within the community.
WolfPack Impact Talks: Spreading the Power of Inclusion
The RideWithRio challenge serves as an integral part of Team AngelWolf's broader program called the "WolfPack Impact Talks." These impactful discussions, conducted by Nick Watson and Tia, aim to foster inclusivity within the community. All costs associated with these talks are fully covered by sponsorships, allowing for widespread accessibility. Nick's motivational talk shares the inspiring story of Rio's journey and the foundation's establishment, emphasizing the significance of overcoming attitudinal, social, and physical barriers. Through their involvement in sports and community events, they strive to open doors to inclusion. Meanwhile, Tia tailors her talk to younger students, sharing her personal experience as an inclusive athlete, caregiver, and sister , She also shares details about her Guinness World Record attempt alongside Rio. These impactful talks stand as a testament to the Watson family's unwavering commitment to spreading the message of inclusion and creating a more inclusive society.